Hi, everyone. I've been quiet for a few weeks, I know. My bandwidth exceeded and I was extremely busy with my job so I couldn't post as much as I wanted to. But recently, I had just crossed something off of my bucket list that's worth sharing. This was something I tweeted two years ago:
I wanna start hiking huhu but dunno where to start

— (@beecaluya) January 26, 2016
I badly wanted to try new things and even on my 2017 bucket list, it was something I listed. Finally, this year I did it!
Our adventure started with my boyfriend and I getting ready at 11:30pm on February 15 to meet with our group at McDonald's Motorway. The van that was going to pick us up will come all the way from Manila that time and we didn't want to be late. Lol. I was actually quite excited because this was the break I needed from work and everything. We weren't able to sleep comfortably during the ride from Tarlac to Benguet because the driver was going too fast–I mean really really fast. Though I kind of slept for an hour or so, it was super uncomfy because I kept on waking up every 30 minutes which left me feeling extra tired.
Around 7 am of February 16, we arrived at Barangay Ampucao, Itogon, Benguet. Our tour coordinator had us registered as we waited for our guides. Thankfully, we had friendly tour guides. They briefed us a bit of what to expect and what to do and whatnots. We had to walk 1 kilometer to arrive at the jump-off. I was extremely tired and my heart was already thumping so hard even before we had arrived at the jump-off. Lmao. The trail to the jump-off was super steep!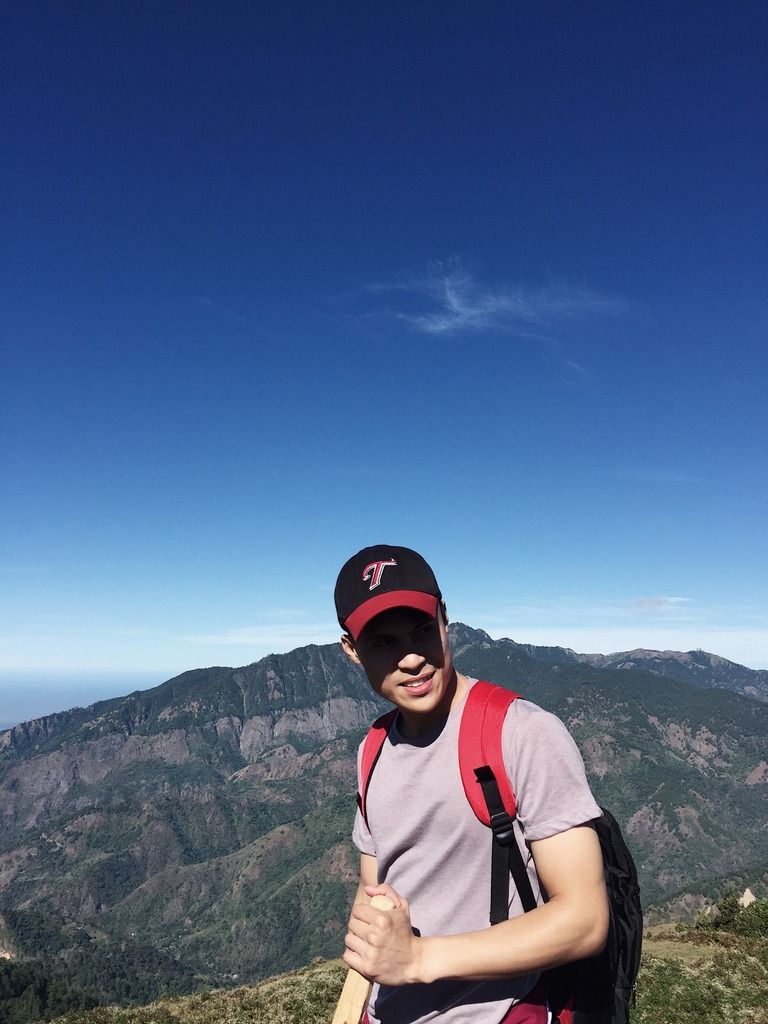 One of the few things I regret most is that I forgot to bring my camera's memory card! So imagine bringing a DSLR camera including an extra 50mm lens but you weren't able to use it. Gah, I was so frustrated! But still, I did my best to get a few shots from my phone camera to show you how beautiful the view was!
(lol, my boyfriend became my model for the day)
I actually thought it was going to be a relaxed and easy hike but boy was I so wrong! For me, it wasn't a beginner hike. But that's just me, guys. Maybe because this was my first mountain and I don't have much experience so I had a hard time. But if you are a beginner, my advice is you need to prepare for this hike. Get some sleep and warm up before doing the hike!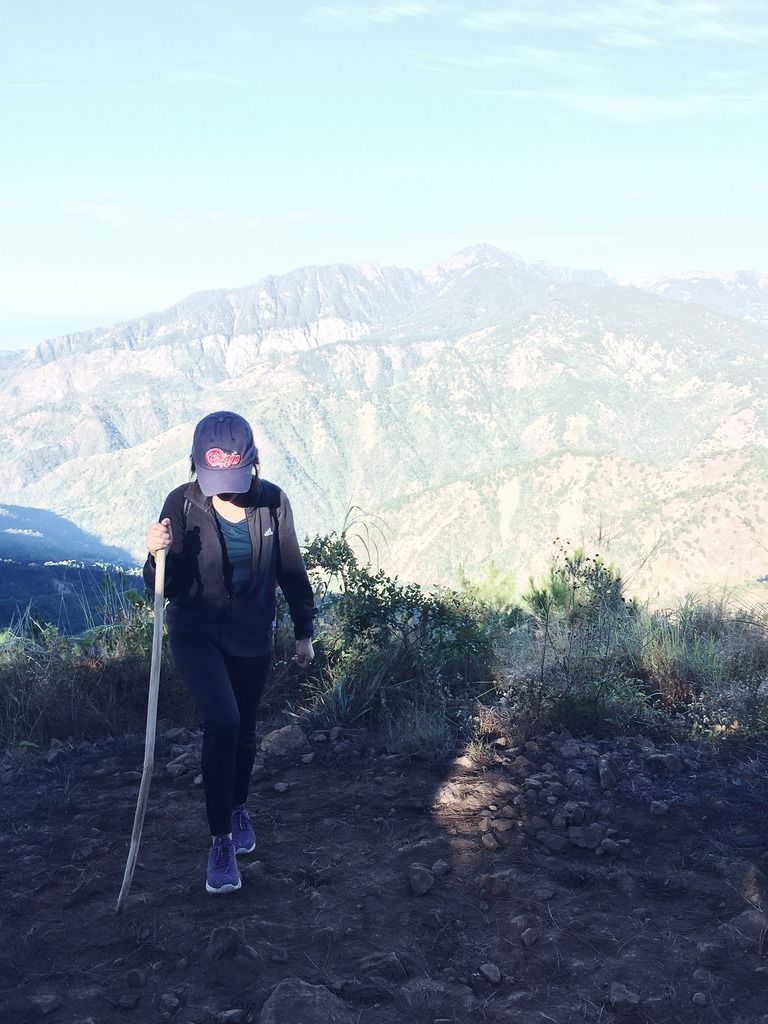 I forgot how many times I slipped during the hike. Lol. I think my boyfriend got mad at me because I was such a burden during most of the time we were there. Nah, just kidding. He was patient with me and he even carried most of my stuff because I needed to hold on to the grass for support. The trail was steep, I'm tellin' ya.
We had to pass two peaks before reaching the summit. The first one was the Ambunao Paoay. We were already tired when we reached this one hahaha good thing, we brought food (trail mix, chocolates and jelly ace) to energize us.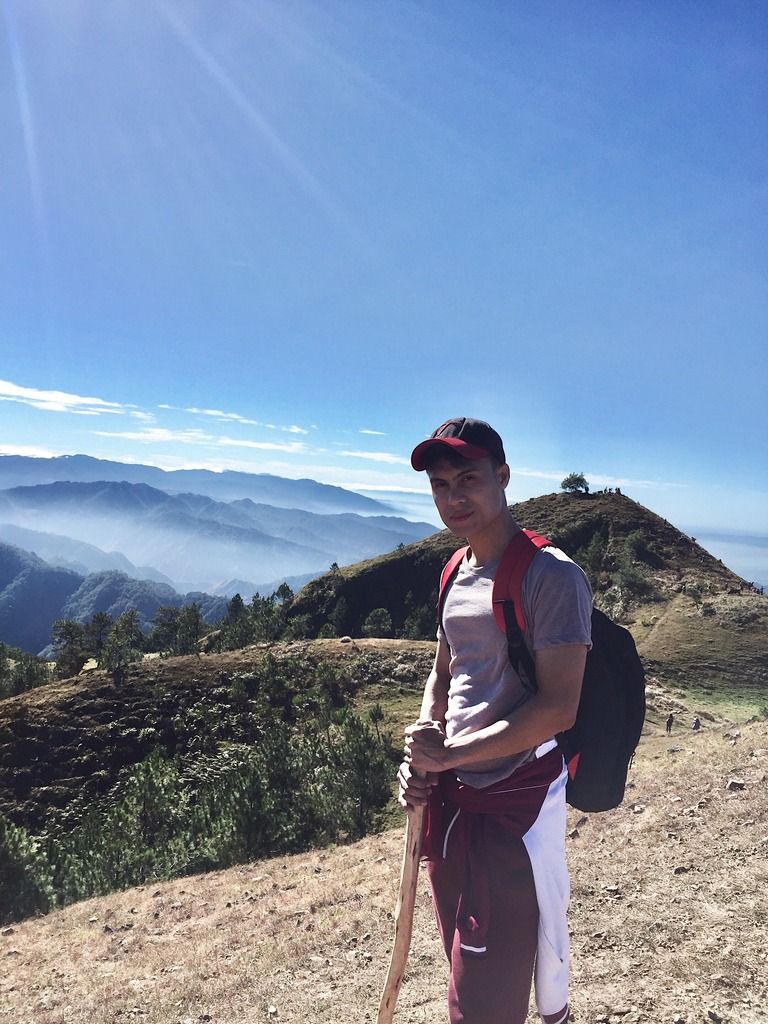 The second peak was the Gungal Rock. It was beautiful but it was too risky to take a photo there because it's really dangerous and scary so i decided not to try.
The hardest part was going to the summit because guess what? It was steep! Ha! To be honest, it was scary. I wondered if someone had already died or had an accident there. One wrong move and bam! Dead. Maybe it was just my brain formulating stuff. I actually searched about it on the internet the next day and found out fortunately, up to this day, no one has ever died on Mt. Ulap.
Anyway, I wondered why the mountain was called Mt. Ulap but when we reached the summit there it was, my God.. it was divine. Ulap in english is cloud. So maybe it was called Mt. Ulap because when you are on the summit, you'd feel like you can touch the clouds! I was so amazed by God's creation. So beautiful!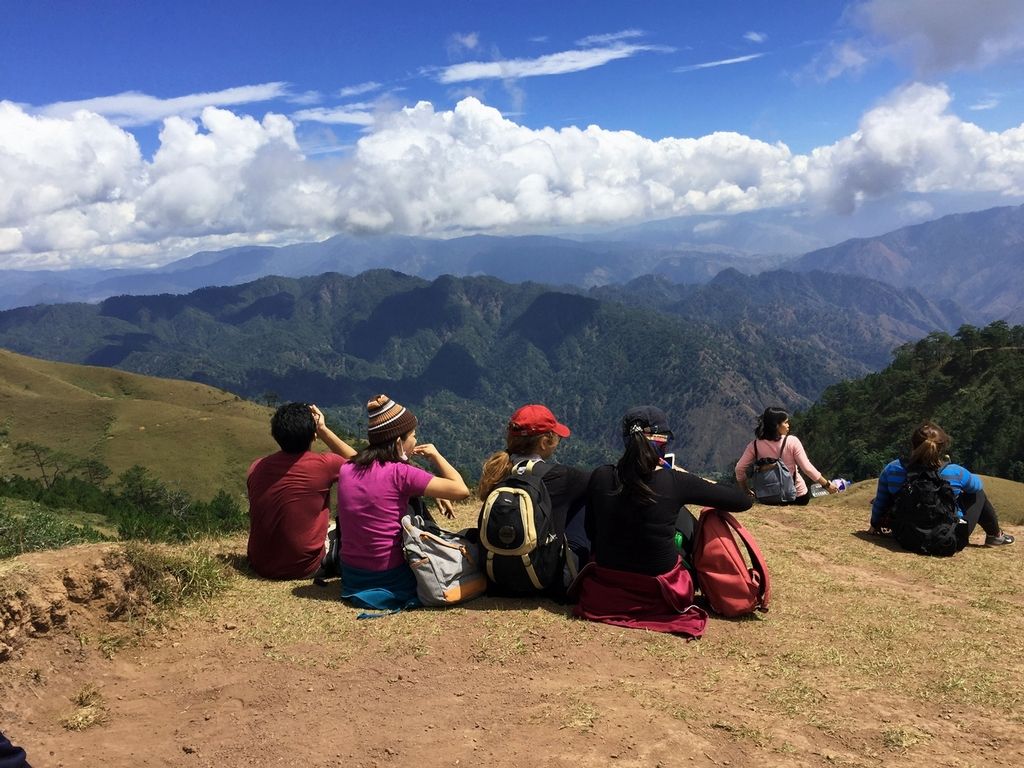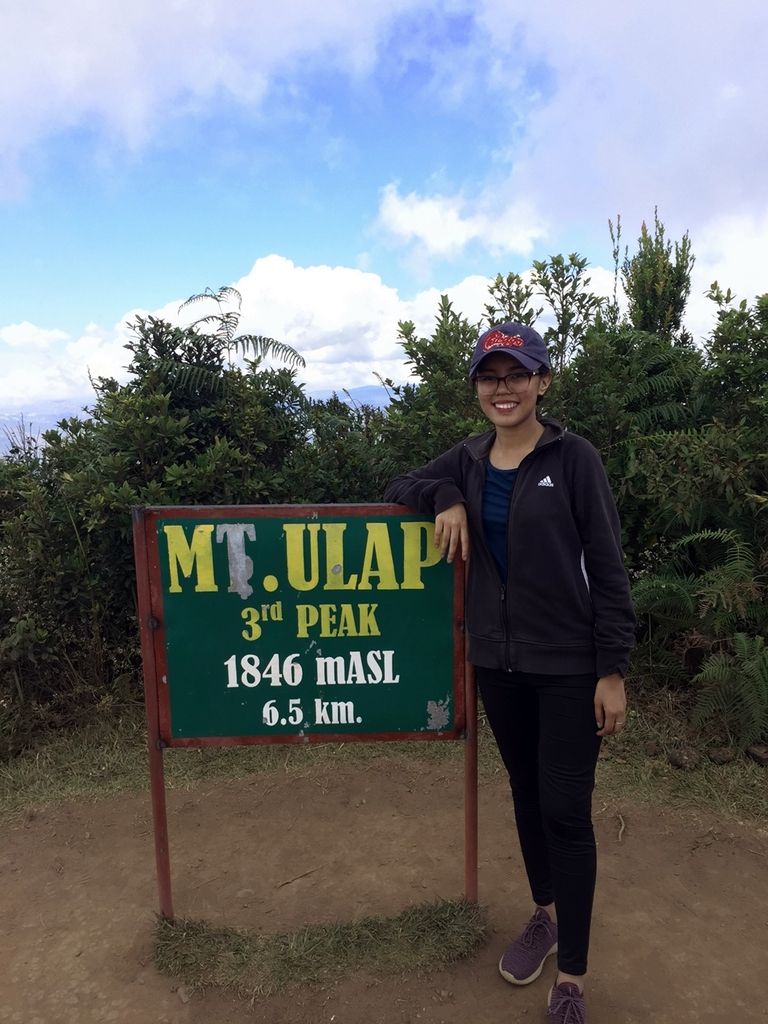 Before descending, we rested for a while and ate our pack lunch at the carenderia/resting area available there. I bought souvenirs to remember that I survived Mt. Ulap. Lol. There were also comfort rooms available but you have to pay for 10-15 pesos.
The trip down was a bit challenging. My body was already tired and we were stepping on rocks which makes it a lot harder and painful to my feet. When we arrived to the end of the trail, I was itching to take the shower. Lol. We had to pay for 20 pesos for the shower but I chose the hot shower which costs an additional 10 pesos. It was so refreshing to finally clean up!!!
Overall, the hike was enjoyable because of the majestic view and the conversations shared during the whole adventure. Indeed, a trip is more enjoyable if shared with the people that matters to you. It makes the adventure a lot more memorable!
If you want to try Mt. Ulap too, here are some details:
Tour cost: 999 php/pax with side trip at Pasalubong Center (day hike)
The cost includes fare (from Manila to Benguet-Benguet to Manila), registration fee, environmental fee and guide fee.
Sample itinerary:
04:00 ETA Baguio City, Breakfast
04:30 ETD for Ampucao
05:30 ETA Ampucao, Registration, Orientation
06:00 Start trek
08:00 ETA Ambanao Paoay
10:00 ETA Gungal Rock, Picture Picture for 30 mins
11:30 ETA Summit of Mt. Ulap, Lunch
13:30 ETD for Pong-ol Burial Human Cave
14:00 ETA Pong-ol Burial Human Cave
15:00 ETA Sta. Fe, Wash up
16:00 ETD for Baguio City/Dinner @ Goodtaste
17:30 ETA Baguio to manila
23:00 Manila
Tips:
Pack lightly (trail food, lunch, extra clothes, water, camera*, flash light)
Bring lots of water, you want to be dehydrated the whole hike
Wear proper shoes (i slipped a lot because of my shoes!!)
Be prepared especially if you're a beginner
Put on sunblock!!!
And wear a cap hahaha you don't want to get sunburned.
I conquered Mt. Ulap! To conquering more heights this year! x
What is the first adventure you did this year?